This model fits the Vancouver bylaw requirements for 3 laying hens (12 square feet of coop space and ~30 in the pen). The coop sits atop a 4-foot by 8-foot pen, which provides adequate roaming space for your hens, while keeping them protected with 1/2-inch wire mesh.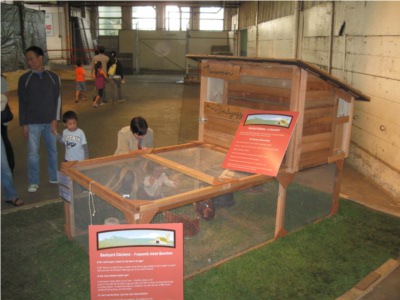 To clean the pen or tend to the chickens,the top is hinged. An access door at the front allows for easy cleaning, while an egg door at the side gives access to the laying box that the hens share. Hens descend from a trap door to access the pen from the coop.
The Vancooper is sold prefab (though I offer delivery and installation) and involves only a few bolts to have it ready for chickens.
The cost is $649 (a heck of a deal!). If you get your friends to buy as well, the cost of each coop can come down as much as $100. To order a Vancooper, please either print the order form and mail it to me or email me at DailyEggs@gmail.com with the subject "Vancooper order." If you order by email, please read the pdf order form and provide me with your info and specific order details that it prompts. I ask for a $50 deposit at the time of the order (call me if not mailing a check and we can arrange payment). View/print the Order Form